Schatmeyer Mizzou Recipient of George C. Marshall Leadership Award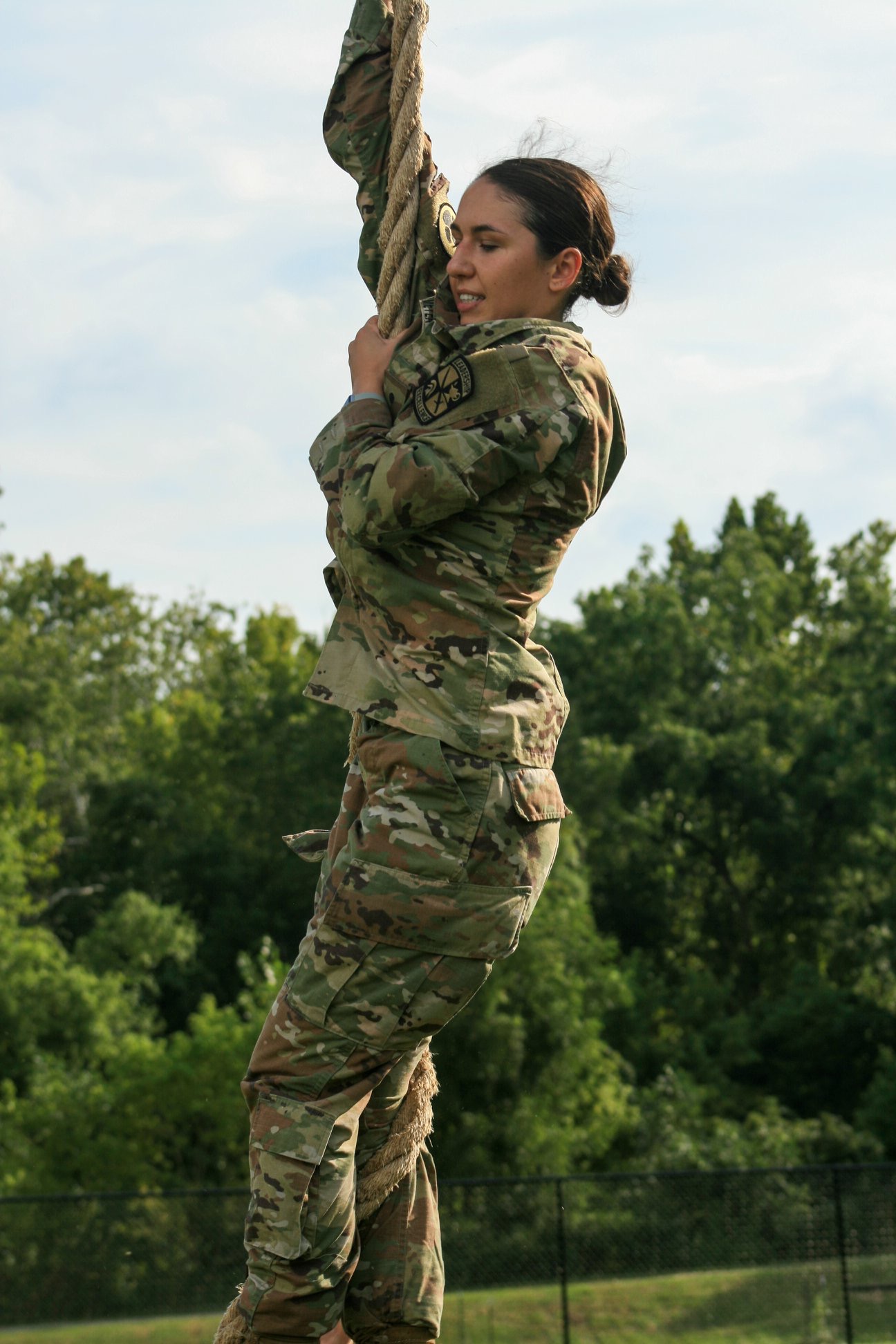 Senior excels in leadership, among other attributes
Nobody was as surprised as Kylie Schatmeyer that she was the only Mizzou recipient of the George C. Marshall Leadership Award.
That's because she never even knew she was nominated.
About 275 Army Reserve Officers' Training Corps (ROTC) cadets from colleges and universities across the nation were selected for this distinguished award based on four criteria: scholarship, leadership, physical fitness, and community involvement.
Schatmeyer was among 41 in the 3rd Brigade to receive this recognition. The 3rd Brigade is headquartered at Great Lakes Naval Training Center in Illinois, with ROTC programs in North Dakota, South Dakota, Nebraska, Kansas, Minnesota, Iowa, Wisconsin, Illinois, Missouri and Michigan (Upper Peninsula region). In total, there are eight brigades across the nation.
A Special Honor
"I was honored I was even considered (for this award)," says Schatmeyer. "It's special because it's kind of a culmination of my work and dedication through all the years of ROTC. It shows hard work and perseverance ends up paying off."
She was nominated by LTC Tara Bradley, University of Missouri professor of military science.
Bradley says she selected her, based on the four criteria outlined in the award, all of which Schatmeyer accomplished.  "Cadet Schatmeyer's performance academically and in the ROTC program distinguished her as a General George C. Marshall Award nominee," Bradley says. "Cadet Schatmeyer is a role model for her peers and other cadets in the program and embodies the qualities of General Marshall."
The award, named after the general, one of the great American statesmen in the country, is given to honor men and women who continue in his service legacy. Schatmeyer, a senior at Mizzou in the communications department (with minors in political and military sciences), will be a second lieutenant upon graduation in May. Only seniors can be nominated for the accomplishment.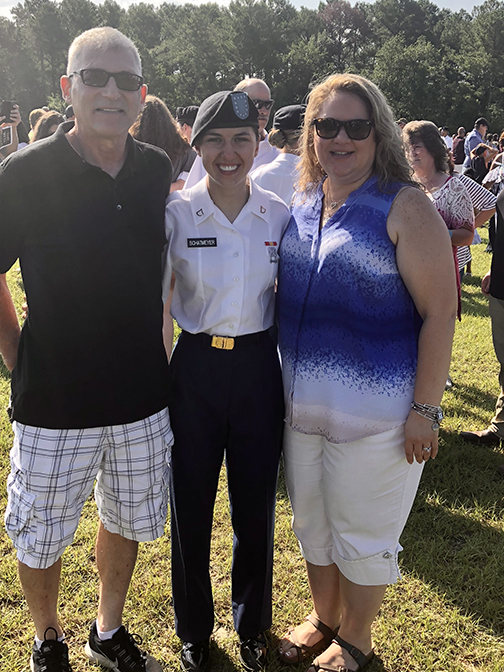 Outstanding Service
During Schatmeyer's four years at Mizzou, she has won two scholarships: The Frank S Quattrocchi Scholarship and the Col. John Hinton Excellence Award in Military Science
Schatmeyer has held a number of leadership positions while at Mizzou, as well, including holding the most senior noncommissioned officer position within her battalion, comprised of more than 90 individuals.
"I was held responsible for everyone in the battalion," she says. "I was responsible for the accountability and health welfare and morale for everyone in the battalion and that was a really important position for me to step up and take charge of during my junior year."
This year she has reached the highest level obtainable: Cadet Battalion Commander. "I am commander of the Tiger Battalion. "I'm really excited to receive this position."
In addition, she is a volunteer through a Mizzou's service dog program that works with Retrieving Freedom (Sedalia, MO), to train service dogs to assist veterans with PTSD or children on the autism spectrum.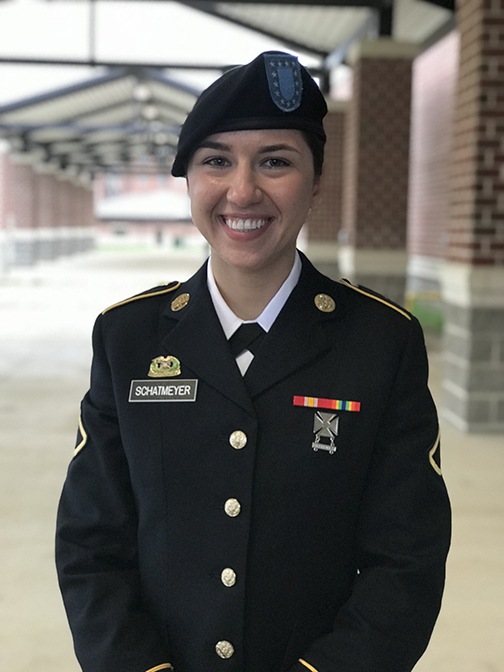 Path to the Future
Schatmeyer says after Basic Officer Leader Course, which she will leave for upon graduation, she will be a medical service platoon leader, or in charge of about 30 people as part of a medical team administering and coordinating health needs, transporting troops, getting medical supplies and more. "So that will be my first year or so, and then I will move on to eventually go to captain's career course."
Schatmeyer advises others having similar paths to achievement to ask questions of professors and leaders, even if it makes them nervous. "There is so much to learn from peers, different cadre, noncommissioned offers and officers already in the military. (Officers) have achieved what I want to achieve, so it is important to pick their brains and find out as much as you can (about life after college graduation). Ask questions and build strong relationships. They're the ones who are going to lift you up when you are feeling down or doubting yourself.
"I love the military," she adds. "I love the balance, and the kind of strict routine of it. It's just something I always wanted to be a part of, so I'm excited to start my professional career one contract at a time, though will likely stay in and make a career out of it."